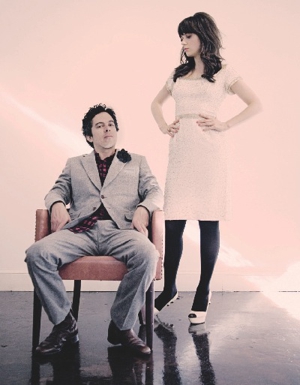 Yes, I know. Sorry to be a she & him fansite this past week but I've got almost no time today to work on the outfit post I had planned (I leave in 2days. yikes!) AND I'm going to see the band tonight so I thought I'd share that you can stream She & Him vol.2 in it's entirety today via NPR! The album isn't out until the 23rd so it's a nice little sneak peak...
I'll report back with a real post ASAP and I'll be sure to take notes for you all on what Miss Deschanel is wearing ;) Meanwhile, here are two really low quality iphone pics of two outfits I wish I would have purchased at Urban over the weekend (non-buyers remorse) - but I decided to save the $$ for purchases on my trip! (the hat/tights/shoes are mine) - also, please excuse the weird facial expressions. I don't have an explanation for them.
later gators!
Update
**
just so you know, I risked my well being to get these (they are super anti-camera at this particular venue) - and I was only able to snap a couple but I had to share my ninja photography..
~djrd